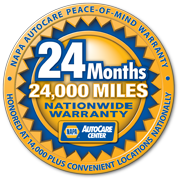 The NAPA AutoCare Peace of Mind Warranty
Covers Parts and Labor on Qualifying Repairs and Services for 24 Months/24,000 Miles.

There's no greater peace of mind than knowing you have one less worry by having your vehicles serviced by the professionals at your local NAPA AutoCare Center. They stand behind their work with the NAPA AutoCare Peace of Mind Warranty.

It's a written warranty that is honored at more than 14,000 locations nationwide - more than any other automotive repair brand.

So - no matter where your travels take you - if you ever experience a problem with a covered repair, you can count on a NAPA AutoCare Center being nearby.



What are the Benefits to You?
Included FREE with your qualifying repair or service work.
Covers parts and labor on qualifying repairs and services for 24 months/24,000 miles.
Extend your coverage to 36 months/36,000 miles when you use your NAPA AutoCare EasyPay Credit Card (applications available at participating locations).
Honored nationwide by thousands of NAPA AutoCare Centers, so you're protected even when you travel.
1-800-LET-NAPA (538-6272)
Testimonials
J. Fetick
Drove in from Ohio Friday night. Car broke down on busy I-70. Called AAA for auto shop recommendations, they gave me two that were the closest. Called the first only to be told can't help us. Second call was to Floyd's. They said get car there in the morning and we'll look at it. Dropped car off, spoke with Nikki and left. Returned a few hours later and was told all checks came back good (no codes or mechanical history showing why it broke down). They ran car thru the paces and still found all okay. I cannot thank the team there that Saturday enough for looking into our car issue. This allowed us that peace of mind to drive back home. We highly recommend Floyd's to everyone who has auto needs. They are fair, friendly and go well above expectations for service.
view all reviews